Learn how to review your beginning balance if you've already reconciled the account in the past. So Fix beginning balance issues if you've reconciled the account in the past QuickBooks Online
Each time you reconcile an account, you start with a beginning balance in QuickBooks. This is the amount in the account on the first day of the time period you're reviewing. Think of it as a checkpoint. It tells you if you're starting with accurate numbers.
This beginning balance should match the beginning balance and date on your bank statements. If it doesn't match, don't worry. QuickBooks will let you know if you need to change anything. Here's how to fix beginning balance issues so you can start reconciling.

Step 1: Review the original opening balanceLearn what causes beginning balance issues
The opening balance is the starting point for an account. If it's incorrect, it affects all of your reconciliations.
Make sure your opening balance is correct. Do this before checking your beginning balance.
Then move on to Step 2 to Fix beginning balance issues if you've reconciled the account in the past QuickBooks Online.
Step 2: Check your bank statement
Make sure you're reconciling the right account for the right month.
Go to the Accounting menu.
Select Reconcile.
Review the account you selected in the Account drop-down menu.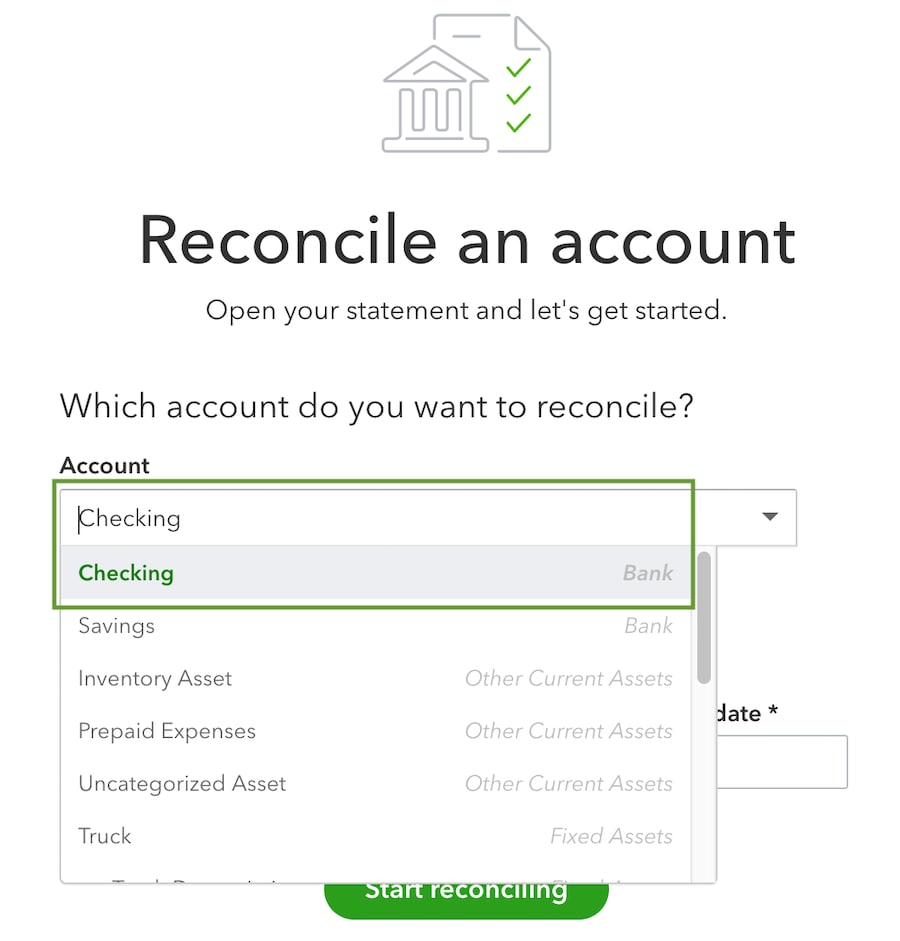 If you have multiple accounts at the same bank, or more than one account of the same type in QuickBooks, make sure reconciling the right one.
Then move on to Step 3.
Step 3: Match and categorize your downloaded transactions
If your account is connected to online banking, match and categorize all of your downloaded transactions before you start reconciling. Leaving any unreviewed will affect your opening balance.
If your account isn't connected, move on to Step 4.
Step 4: Review any discrepancy reports
If someone makes a change that affects your beginning balance, you'll see a message when you start reconciling. Follow the link to open your discrepancy report. Use it to decide if and how to make changes.
Select We can help you fix it to open your discrepancy report.
Review the discrepancy report. Before editing any of the transactions on it, talk with whoever made the changes – they may be intentional.
Once you know you can make corrections, edit each transaction on the report one at a time.
Select View to see the history of changes to the transaction.
Review the Change Type column. This tells you what changed. 
When you're ready to make edits, select the transaction to expand the view.
Make edits based on the message in the Change Type column:
Amount changed
Unreconciled in register
Reconciled in error
Deleted
After you make changes, the Total Discrepancy Difference on the report should be $0.00. Your beginning balance in QuickBooks should match the beginning balance on your bank statement.
Select Resume reconciling to continue reconciling.
Next steps: Start reconciling again
Once you know your beginning balance is correct, you can start reconciling again. If you have problems during your reconciliation, here's how to review your ending balance.
If you've followed everything in our reconcile guide but still have questions, connect with your accountant. They can help get your reconciliations back on track.
More Topics: Print All General Journal Entries by Year